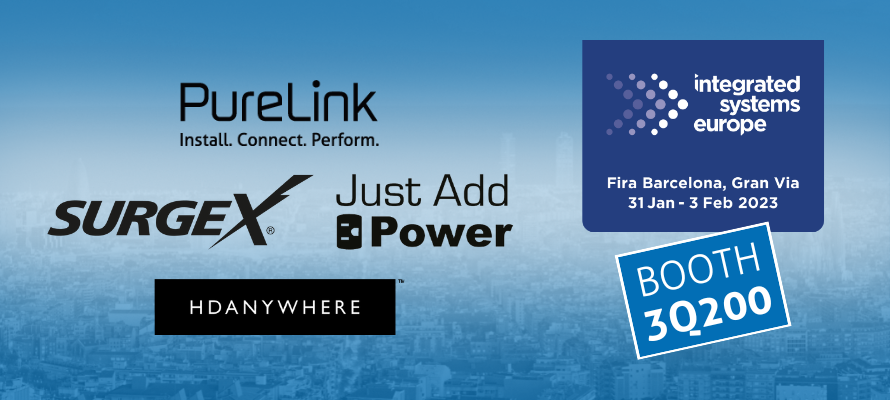 ISE 2023 – See you there!
Focus on USB-C, AOC and solutions for Hybrid Working
At Integrated Systems Europe 2023 in Barcelona, we will again be accompanied by three strong partners: SurgeX, Just Add Power, and HDANYWHERE. At our shared booth, we will present complementary product ranges in the areas of AV over IP, power management, and AV/IT solutions for the proAV market in both commercial and residential sectors.
When presenting our professional cable range, we will focus on AOC and USB-C technology, which are of great importance for modern applications.
With the mediahub2 series, we introduce a new ICS system of customizable premium connection panels for modern co-working, office, and conference spaces. mediahub2 consists of a central chassis that can be installed in various ways and configured with plug-in modules as needed. With maximum modularity for discerning users and an elegant design that seamlessly fits into any high-end interior, the mediahub2 product series will be launched at ISE 2023.
Also new to the our range is the Vuelogic series. It offers docking stations for modern hybrid working as well as user-friendly premium UCC products that benefit from PureLink's years of ProAV experience. For example, the "VB-Pro Conference Hub" is a powerful combination of stereo soundbar, 4K ePTZ camera, 4-line array microphones, integrated video switcher and wireless sharing function. This VC soundbar is ideal for home office, small meeting or large conference room requirements and complies with the current BYOD principle.
With SurgeX, we will be accompanied by a leading US brand for power management and power conditioning.
One of the product highlights at ISE 2023 will be the SQUID multifunctional power management system. This small 230V/24V/12V/5V device is designed for AV environments with limited space and can significantly reduce maintenance costs and power consumption of installations with remote analysis and active power management. Another highlight is the Security 2 UPS series, which guarantees uninterruptible backup power with zero transfer time.
Just Add Power – also from the US – will give a first look at the latest version of its award-winning MaxColorTM series, which has been upgraded to include KVM support and fiber port connectivity. The new series natively transmits 4K60/4:4:4/36-bit color video over a managed 1Gb network. For installation, users can now choose between existing CatX cables (minimum Cat5e) or 10-G fiber cables. The new MaxColorTM series also has a power supply via USB-C that supports, for example, a USB webcam signal over IP or the forwarding of KVM signals for the use of mouse and keyboard.
HDANYWHERE from the UK will focus on the areas of Media, Music and Mood. Among other things, the HDTV professionals will present their MHUB PRO 2-0 with the new MZMA (Multi-Zone Matrix Amplifier) video and audio distribution.
In addition, HDANYWHERE will present their sophisticated SmartHome solutions, including the brand new uControl Remote.
Together with our partners, you can find us in Hall 3 at Booth Q200.
This year's Integrated Systems Europe will take place at Fira Barcelona, Gran Via, from January 31 to February 03, 2023.
Back